One day in 1893, America's greatest magician, Alexander Herrmann, walked into the studio of the century's best-known photographer, Mathew Brady. By this time Brady was elderly and nearly blind, struggling to make a comeback based on the fame of his Civil War photographs and his reputation as portrait photographer to the great and famous. In 1893 Brady opened a new studio in Washington DC in the fashionable shopping district along F Street. It was his last stand -- by the next year he was working out of his nephew's house.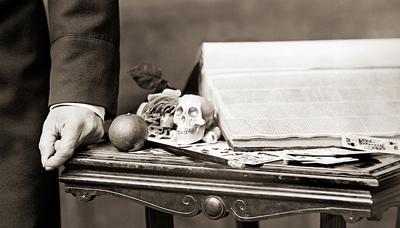 Alexander Herrmann brought the tools of his trade into Brady's new studio: his prop in the shape of an orange, from which he would produce a vanished item; the playing cards that he could scale to any particular patron in any part of the theater; his theatrical scrapbook; and his elegant magic wand. These items were arranged casually on a side table when Herrmann the Great stood across from Mathew Brady's camera, posing for his portrait.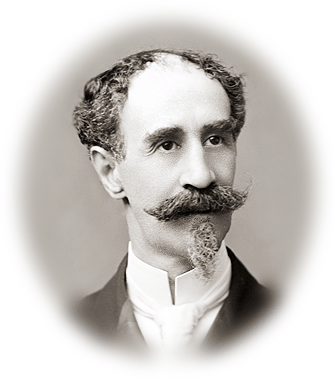 Brady's assistant uncapped the camera's brass lens for a couple of seconds, then took the enormous 14 x 17 inch Imperial glass negative into the darkroom. Later, a skilled retoucher would gently soften the age lines in Herrmann the Great's face,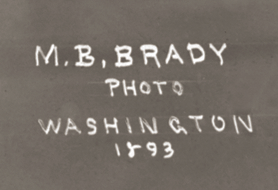 leaving intact the gleam in the eyes of the celebrated conjuror.
The negative was completed with the proud inscription, "M. B. BRADY/ PHOTO / WASHINGTON / 1893"

And then... it was Lost to History.
No original prints are known to have been made from the Brady negative. Not even a pirated copy has survived. There are no portraits of Alexander Herrmann among the ten thousand negatives in the Brady-Handy Collection at the Library of Congress (acquired from the daughters of Brady's nephew and business successor in 1954). Like the white gloves the magician tossed into the air at the start of every performance, Herrmann the Great's Imperial portrait vanished from history.
Until it was rediscovered by two photography collectors.
The fragile glass negative was intact and in remarkably good condition when the collectors acquired it in 2014 from a private seller who did not know the identity of the subject -- or where the giant negative had been for the last 121 years!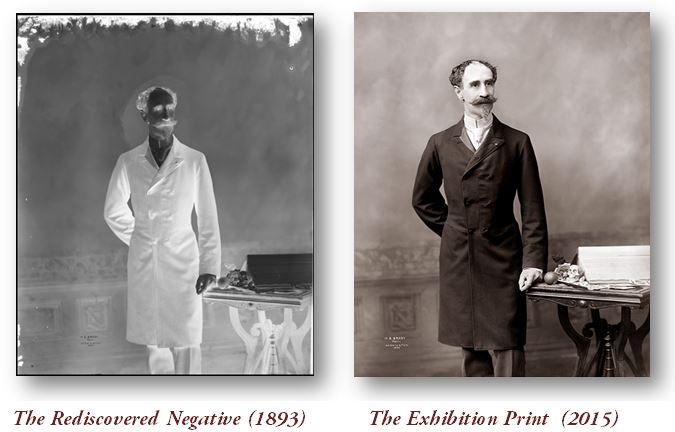 The rediscovery touched off a new round of research into the last years of both Herrmann and Brady. It's one of the last photographs taken of the King of Magic, and the only one known to depict him with his props and his wand. Brady was long thought to be a pathetic figure in his final years, but this image shows he was on the verge of success in his late-career comeback: attracting a client with the star power of Alexander Herrmann would have been a major accomplishment.
Three years after the portrait was made, both Brady and Herrmann were gone. This powerful photograph should have been a part of their legacies all along. Now, it can finally take its rightful place in their stories.
The new owners used state-of-the-art digital photographic techniques to produce a single Exhibition Print, 24 x 32 inches (larger than a half sheet poster) with breathtaking detail and clarity.
| | |
| --- | --- |
| | Magic Historian and Illusion Designer Jim Steinmeyer (R) and Photography Historian Bill Becker with the Exhibition Print at the L.A. Conference on the History of Magic |
It created a sensation when it was unveiled onstage at the 14th Los Angeles Conference on the History of Magic. And now... you can join a limited number of collectors and institutions who are adding this great portrait to their collections.
Elegant Limited Edition prints of the M. B. Brady studio portrait of Alexander Herrmann are now in production, made-to-order with the most advanced materials. Under recommended display conditions, these fine digital prints are rated to last more than a century by Wilhelm Imaging Research.
The edition is limited to no more than 100 numbered prints, mounted on archival matboard and shipped to you ready for framing. A Certificate of Authenticity will accompany every print.
Two sizes are available:
Exhibition Prints, 24.25 x 32 inches, on a 32 x 40 inch archival mount
Imperial Format, 14 x 17 inches, on a 16 x 20 inch archival mount
The Exhibition Prints are $1500 (plus $50 packing and domestic shipping), and Imperial Prints are $750 each (plus $25 shipping). International delivery is available; please inquire. Michigan residents please add sales tax.
RESERVE YOUR PRINT NOW. Click here for a printable order form to pay by check. Or Click here to purchase online with any major credit card.
Questions? Click here to drop us an email.
"This is an amazing tribute to the art of American photography and the art of American magic, a rediscovered mystery that reintroduces us to two brilliant and respected 19th century celebrities. And this print combines the best of 19th Century artistry and 21st Century technology to put you face-to-face with both of these men."
-- Jim Steinmeyer,  Magic Historian and  
reknowned Designer/Inventor of Illusions
---
The fine print: Prices and terms subject to change without notice. Unveiling photograph by Bill Taylor. Enhanced images and all other content Copyright © MMXVI Herrmann the Great LLC. All rights reserved. Our mailing address is: P O Box 7076, Huntington Woods, Michigan 48070